We Are Expecting Scottie Puppies!!!!!
We are excitedly anticipating our litter out of Memphis and Cinder. Puppies expected the end of Feb. 2023!
Please contact us by email k.simmons78@yahoo.com to inquire about this litter or some of our other planned Scottie litters in 2023. We will let you know price and have you fill out our puppy questionnaire and if we feel that you would be a good fit for a Chyscott puppy we will place you on our waiting list!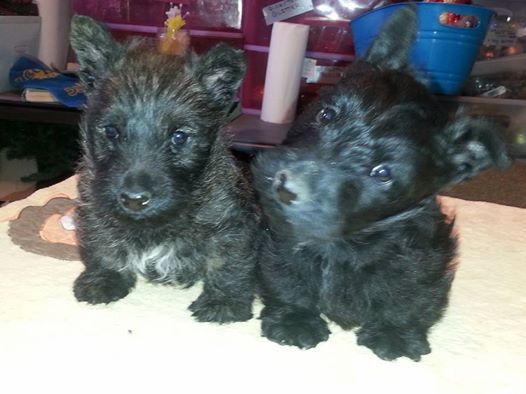 Click on the picture below to see our young and upcoming hopefuls at Chyscott. We are very excited about these puppies and look forward to having them in the ring in 2015!
---
---
Some Information On Owning One Of Our Puppies
We here at Chyscott maintain a standing "wait list". We try to keep our list as current as possible. We do encourage any potential buyers to keep in contact with us through email or phone. We also encourage new buyers to try and be flexible about sex and color. Most inquires are for a black female. In reality we seldom have many black girls to place.

When a litter is born, we first evaluate all puppies with the potential of them becoming show dogs. Occasionally we will have a few pet quality puppies to place in a pet home. Pet puppies are placed on a strict spay/neuter contract with the guarantee that they are only to be a pet and not a breeding animal. All pets are registered on a limited basis with the AKC. A quality healthy Scottish Terrier is a major investment and so is the process of breeding and raising a litter. Under no circumstances do we ship our puppies! Our puppies have all 3 sets of their shots and are not placed until they are at least 12 weeks old.

When placing one of our puppies we like to know the environment that our Scotties will be living in. We prefer that new owners have a fenced yard and that the new dog will not be around or have access to bodies of water, ie: pools, hot tubs, ponds/lakes and large fountains or other water features. Scotties cannot swim and we strongly advise against any of our dogs being around water unless specific precautions have been taken.

Over the years we have formed strong relationships with our puppy buyers and many times have former buyers come back to us to purchase their next companions. We love to stay in contact with our puppy owners and enjoy updates and pictures of dogs we have placed!
---
---