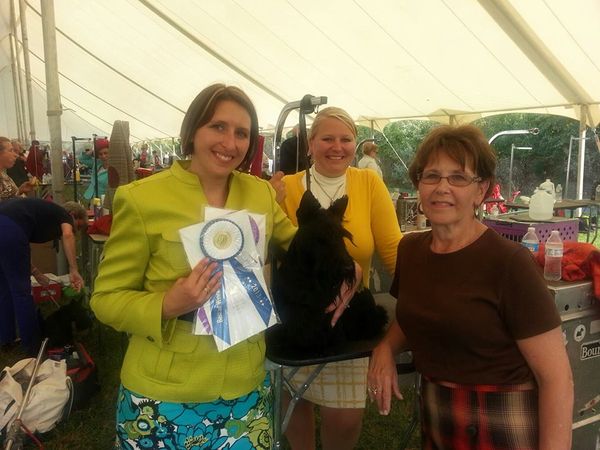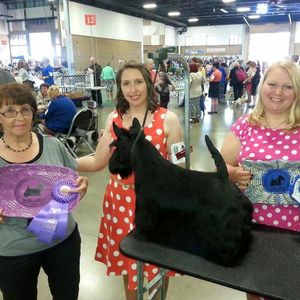 Chyscott Scottish Terriers & Whippets is located on the plains of beautiful Wyoming in Cheyenne. Our mom, Larae Shafer started Chyscott in 1975 when she recieved a pet Scottish Terrier as a wedding present. Larae started with obedience and quickly learned that the Scottish Terrier wasn't exactly the best breed to have in obedience. However, her love for the breed had begun and she decided to try her hat at showing in AKC. She recieved her 1st show bitch from breeder Nancy Fingerhut in the early 80's. Larae showed and finished her girl, Ch. Dana's Amber Edition (Annie) and produced many champion offspring out of her. Larae was breeder of the year with the Scottish Terrier Club of America with her first litter of puppies, finishing all 6 out of the litter!

Chyscott is currently ran by Larae and her 2 daughters who have grown up raising and showing dogs with their mom. Krissy Simmons & Whitney Shafer. Both girls have the same passion for breeding and showing as their mother does. At Chyscott we strive to produce Quality, Temperment and Health in all of our dogs. All of our dogs are hand raised with love and ultimately we want the best that we can for all of our dogs. We have bred over 25 AKC champions and have produced many National, Regional and Group winning Scotties. Many performance Scotties (Agility, Obedience & Earth Dog) come down from our lines. We are members of the Scottish Terrier Club of America.

Whitney Shafer began her adventure with the Whippet breed when she began showing in Junior Showmanship at the age of 10. She recieved her first Whippet from breeder Carole Curry of Locar Whippet. Ch. Locar's John Henery "Johnry" came to live with us when he was 5. Since then Whitney has had Elysian's Cry to Heaven "Reba", Elysian's Elixer "Midge", Ch. Tala Ab's Majestic Masterpiece "Milo & currently GCh. Charlamar's Designer Jeans at Oxford "Levi & Ch. Sporting Field's Written in the Sand "Addison". Whitney won several Best Junior Showmanship awards with her Whippets and qualified for Westminster several times. She since has gone on to win specialties and group placements with her Whippets. We welcomed our first litter of Whippets this year in 2015. We are excited that we will be able to show 3 of the 6 puppies ourselves starting in 2016.

Chyscott is very proud of the dogs that we have and have produced. If you are interested in learning more or interested in possibly owning a Chyscott dog, please contact us through our Contact Page.

Thank You for Visiting us on our webpage!